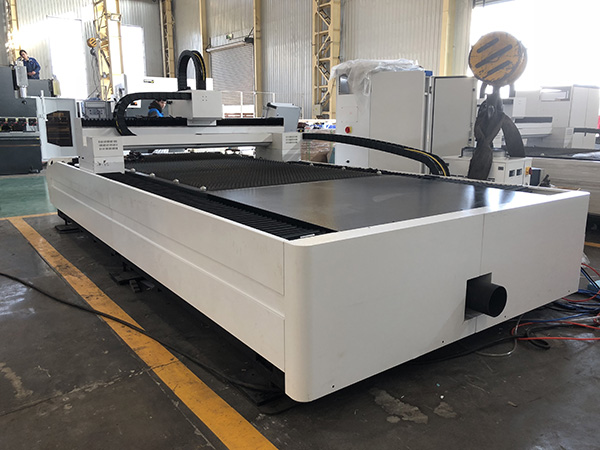 Ürün uygulaması
---
Accurl fiber lazer kesim makinası is equipped with fiber laser which is energy-efficient, environment-friendly as well as highly efficient.
Recently, fiber laser medium is the most popular and stable laser source internationally. The laser beam of high energy density is focused on the surface of the material. Then the area melts, burns, vaporizes away, and the slag is blown away by a jet of gas, leaving a smooth seam with a high-quality surface finish made by a relative motion between laser light beam and preset routine for the material. That is to say, the automatic laser cutting can be realized when moving the light spot position by the mechanical systems controlled by CNC. KJG fiber laser cutting machine is high-tech equipment integrated with laser technology, CNC technology and mechanical technology.
Lazer gücü

Watt

500W

Laser Brand

IPG

Made in USA

Cutting Area

aa

1500x3000mm

Lazer gücü

Watt

800W

Laser Brand

IPG

Made in USA

Cutting Area

aa

1500x3000mm

Lazer gücü

Watt

1000W

Laser Brand

IPG

Made in USA

Cutting Area

aa

1500x3000mm
Ana Özellikler
---
1) The Accurl Lazer kesme makinesi with the highest precision in China, it can cut small metal bike design with size of half a coin and perfectly cut 6mm mild steel,120 holes can be cut within one minute.
2) 600℃ heat treatment, 24 hours cooling in the oven, 8 meters gantry milling, accurate CO2 protection welding, to make sure 20 years usage without deformation.
3) Using laser electrical cabinet integration design, cover small area , save space, minimalist design.
4) Scrap car symmetrical design, both sides can clean up the waste; Put machine to the romm has no left and right requirements; Pneumatic lifter device to prevent the material from scratching.
5) Specially used for cutting 0.5-6mm carbon steel, 0.5-5mm stainless steel, galvanized steel, electrolytic zinc-coated steel sheet, silicon steel and other kinds of thin metal sheets.1000W can cut 3mm aluminum and 2mm copper.
Model No.

Lazer türü

IPG / Coherent / Raycus

Lazer gücü

Cutting Area

                                                          1500mmX3000mm

Çalışma masası yapısı

Kontrol sistemi

PMAC full-closed loop servo control

Konumlandırma doğruluğu

Sürüş modu

Idle/Processing Speed

72m/min / 36m/min

                      100m/min / 30m/min

Laser Head

                                            Precitec / Golden Laser / Laser Mech

Soğutma sistemi

                                          Dual temperature dual control water chiller

Protection System

            Open Type

                                  Enclosure protection

Format Supported

                                                 PLT, DXF, BMP, AI, DST, DWG, vb.

Güç kaynağı

                                                                  380V / 220V

Total Power

          7KW / 11KW

                              17KW / 8~22KW

Floor Space

     5.6m x 3.2m

                                        9m X 4m
Servisimiz
---
Satış Öncesi Servis
* Technical solution.
* Online video authentication machine work.
* Cutting samples provided by DHL.
Satış sonrası servis
* Supplier will provide detail manual for software, hardware and trouble shooting, also supplier should give necessary guidance online if Buyer need. If it's necessary, Buyer should send regular his technical staff to Supplier for technical training.
Hızlı Ayrıntılar
---
Uygulama: Lazer Kesim
Durum: Yeni
Laser Type:Fiber Laser
Uygulanabilir Malzeme: Akrilik, Crytal, Cam, Deri, MDF, Metal, Kağıt, plastik, Pleksigla, Kontrplak, Kauçuk, Taş, Ahşap
Cutting Thickness:6mm
Kesim Alanı: 1500 * 3000mm
Cutting Speed:72m/min
CNC veya Değil: Evet
Soğutma modu: su soğutma
Control Software: cypcut controller
Graphic Format Supported: AI, DST, DWG, DXF, DXP, LAS
Menşe Yeri: Çin (Anakara)
Marka Adı: ACCURL
Model Number: KJG-150300DT with 800W
Belgelendirme: ce, iso, sgs, ul
Sağlanan Satış Sonrası Hizmet: Yurtdışı hizmet amaçlı kullanılabilir makine mühendisleri
Laser type: IPG fiber laser generator from USA
Laser wavelength: 1070nm
Laser power output rating: 800W
X-axis travel: 1500mm
Y-axis travel: 3000mm
Working table:Open design, fixed table
Sürüş modu: çift raf ve pinyon sürüş sistemi
Format supported:PLT, DXF, AI etc
Position accuracy: 0.05mm
Total Power consumption: 10KW
lazer kesim makinası tedarikçisi
,
küçük akrilik lazer kesim makinası
,
küçük ahşap lazer kesim makinası